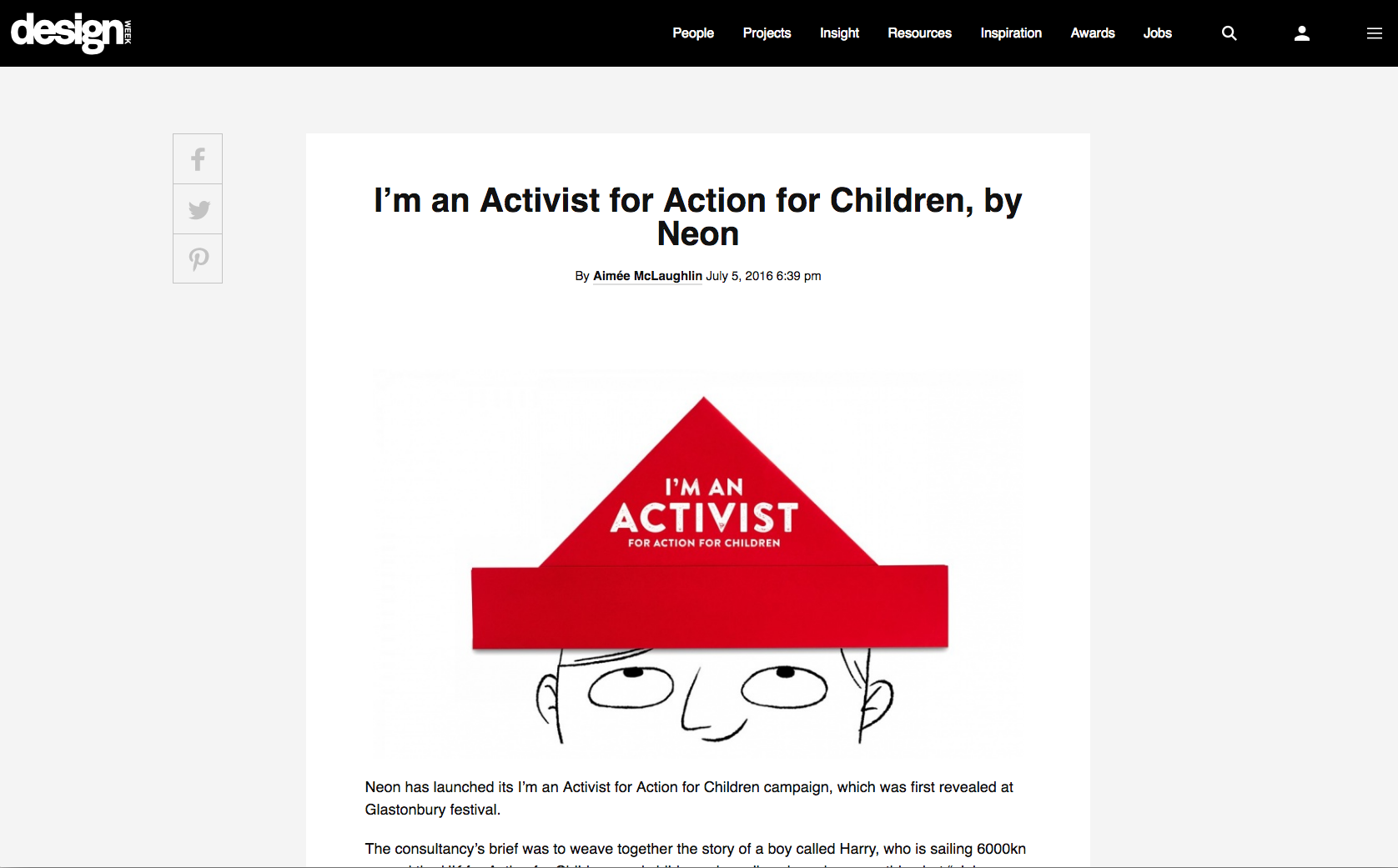 'I'm an Activist for Action for Children' campaign and animation features in Design Week.
Neon's campaign idea and promotional film 'I'm an activist for Action for Children' is featured in Design Week's 'Inspiration' section.
The'I'm an activist for Action for Children' launched on all the big screens at every stage over the Glastonbury Festival weekend. It is a little project that we hope does a lot of good for Action for Children and the disadvantaged children and families they support around the UK.
Maybe have a peak and learn about becoming an 'Activist' for Action for Children and also about little boy called Harry –  a happy, healthy 13 year old, who was adopted at six, after a very difficult start in life who is fundraising for Action for Children.
It's a cause, we strongly believe, well worth the active support of anyone who believes that all children, without exception, deserve to have the love, support and opportunity they need to fulfil their potential, and get the most out of life's adventure – and we couldn't be happier to have played our part in helping Harry and his family get the most out of theirs and supporting them fundraise for Action for Children.
And maybe, if you can, do some giving whether that be time or money. 
This commission is another of several recent commissions for Neon by Action for Children and follows the success of the National Children's Hour 'When the big hand reaches for the little hand' campaign.
To view the full article and all responses on-line click here, but you will need to register with Design Week.
If you'd like to know more about this project, or if you have a project/pitch/roster review you'd like to discuss with us, we'd be absolutely delighted to hear from you.
Please call Dana Robertson on the number below, drop him an email or connect via LinkedIn.
Telephone
+44 (0)20 3289 1733
Email
info@neon-creative.com