I'm an Activist

for Action for Children
"Hello, Glastonbury! Are you ready to GIVE?"

A lovely brief from long-time client Action for Children – but quite a complex one, too. Why complex? Because we needed to find a way of weaving together a compelling and coherent story from separate, not-very-closely-related elements. Read More…
For starters, there was Harry – a happy, healthy 13 year old, who was adopted at six, after a very difficult start in life. With his new family, Harry was about to embark on an epic 12-week voyage in their yacht, around the UK. And they were planning to use their adventure as the focus of a campaign to raise money for Action for Children.
By chance, Harry's parents were on friendly terms with Glastonbury Festival supremo Michael Eavis, who kindly and amazingly gave them a slot on all the festivals stages big screens, including the famous Pyramid Stage, to promote their fund-raising and invite festival-goers to make a donation.
So, when Action for Children called in Neon to come up with a campaign idea and make promotional films, that was the challenge: to find a way of telling a clear story, easily understood by a potentially slightly woozy Glasto crowd, linking Harry and his family's trip to the wider efforts of the charity to make things better for children whose lives have been anything but plain sailing – and finally and most importantly to motivate people to either donate their money or time to actively sign-up to get involved in helping to support Action for Children's efforts in their local area. So, quite a lot to pack in…
Usually our advice would be to simplify. However, in this instance the complexity and the challenge in the amount of messaging and content, ended up helping create something wonderful – especially when it came the promotional film.
Time to put our thinking caps on – hang on a minute…
We wanted to find something simple, fun, and involving; something that would tap into Glastonbury's unique feel good vibe, and motivate people not just to give, but also – ideally – to get involved.
Our solution? A red paper hat. A simple but elegant visual device connecting Harry and his boat to the work of Action for Children, which also works as a striking (as well as cheap and biodegradable) give away at Glastonbury – and a highly visible statement to pledging help to do some good. The campaign signature red paper hat is supported by our accompanying line rousingly inviting people to become an 'Activist' for Action for Children.
Just watch the movie to see how charmingly flexible that idea turned out to be. Storyboarded in loving detail by Neon, and then beautifully brought to life with further storyboarding and animation by animation production company and friends of Neon, Scriberia – and the music was kindly donated by the most excellent Delta Mainline (if you like the track you can get it from Delta Mainline's website).
And the results.
This project in the main was all about raising awareness and ideally getting people to sign-up – and the numbers so far have been very encouraging:
• Total number of people reached: 200,095,290
• Total number of engaged: 18,434
• The animation was played on the large screens at Glastonbury and the BBC and reached an audience of 200 million people.
• Through Facebook the animation reached 37,000 people and had nearly 8000 views (one of the highest videos with organic reach) .
• Fundraising posts had 5000 engagements.
• 381 people signed up to be fully fledged campaigners.
• Photographs of our festival activity on Facebook reached 20,000 people .
• 2000 people were engaged in the paper hats.
• 350 took part in the fastest hat making challenge – 9 seconds was the record!
A campaign with a life beyond Glastonbury.
It's also just the start something. 'Be an Activist' for Action for Children' – is set to have a life well beyond the Pyramid Stage. It's a cause, we strongly believe, well worth the active support of anyone who believes that all children, without exception, deserve to have the love, support and opportunity they need to fulfil their potential, and get the most out of life's adventure. And we couldn't be happier to have played our part in helping Harry and his family get the most out of theirs (please see the beginning of their adventure on the movie at the end of our case study).
And finally, hats off to Action for Children for all their continued hard work and dedication to helping children in the UK get a better start in life. To find out more about this great campaign – as well as all the great things Action for Children do – please do visit their website or their YouTube channel
(Our other projects for Action for Children include: It starts with hello, National Children's Hour, An hour for Good, Swap n' Shop to name but a few.)
(Read Less...)
Kind words…
"When the opportunity of a lifetime came our way we knew we had to get Dana and Neon involved. Read More…
We were about to tell our story to an audience of 200 million people and we couldn't do something light-hearted; it had to be powerful, fun and interactive – and we needed to find a way of weaving together a compelling and coherent story from separate, not-very-closely-related elements (a fundraising boat trip, an adopted boy and his family, AfCs work and a Glastonbury crowd).

However, as soon as Dana presented his thoughts and storyboard we knew we had it – quite literally a big 'activation' idea. Not only did Dana create a genius idea, but he guided us through the whole new process and made sure that our stand at the festival caught the eye of our new supporters. Internally the creative is loved by everyone, but more importantly Harry and his family are thrilled by what we have done and find it hilarious that they are cartoon characters!

'Hat's off' to Neon another great idea for Action for Children."

LIZ FENWICK
Campaign Manager
Action for Children
(Read Less...)
To find out more: info@neon-creative.com or call +44 (0)20 3289 1733 Share this: Email, LinkedIn, Twitter, Facebook, Download PDF, follow us on Instagram or view our animations and movies on Vimeo
CHARITY
Campaign
DRUM DESIGN
AWARDS 2017:
Chairman's Award
– WINNER
Brand Campaign
– WINNER
Moving Image
– WINNER
BRAND IMPACT
AWARDS 2017
– Shortlisted
PROJECT SUMMARY
Campaign concept & strapline
Campaign brand mark
Animation concept & ideas
Animation storyboarding
Animation art direction
Sourcing soundtrack
Advertising
Promotional posters
Literature
Bespoke illustration
Digital
Promotional stand
---
'I'm an Activist for Action for Children' Glastonbury awareness and fundraising movie.
'I'm an Activist for Action for Children' fundraising live recording snippet from Glastonbury 2016.
'I'm an Activist for Action for Children' staff T-Shirts and give away paper hats at Glastonbury.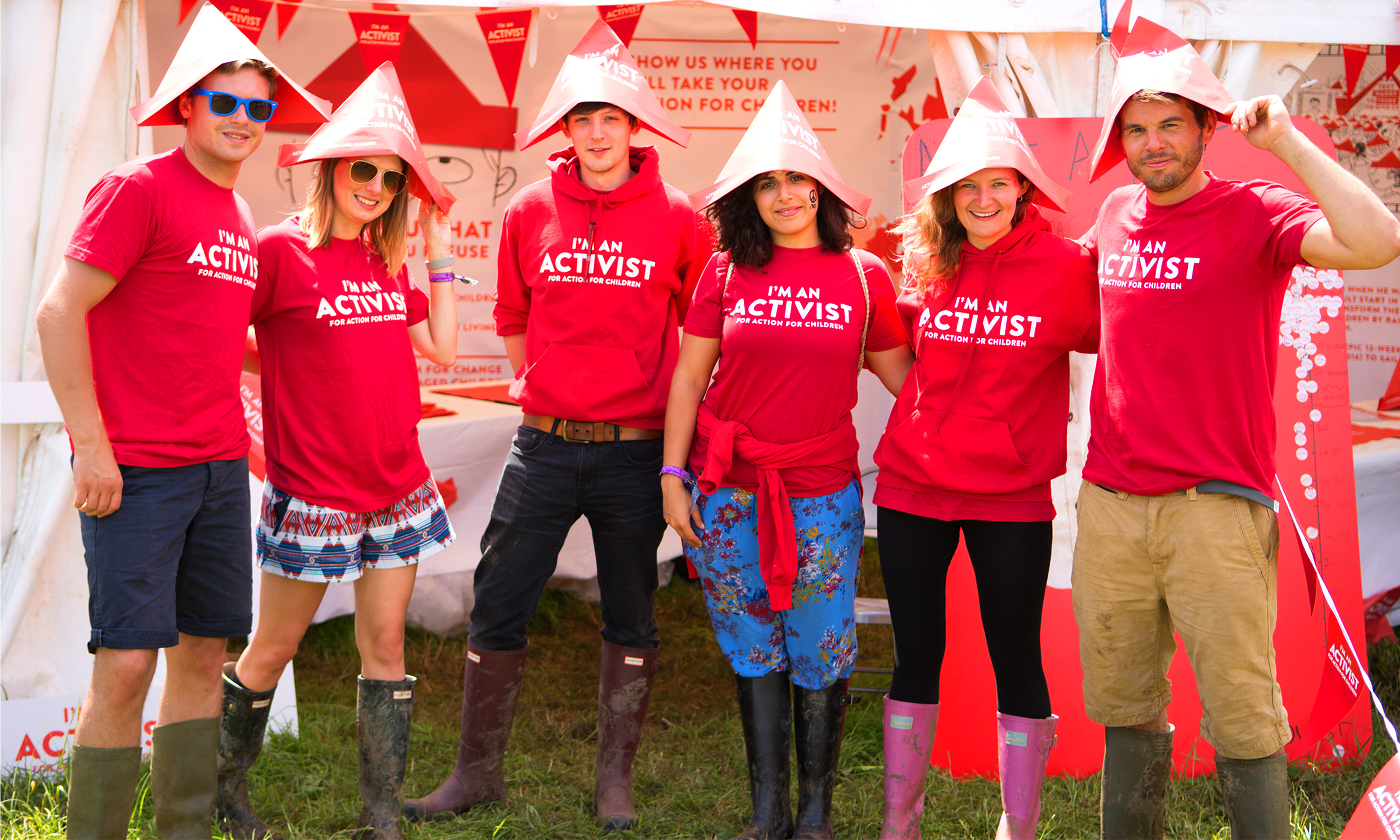 'I'm an Activist for Action for Children' fundraising stand at Glastonbury.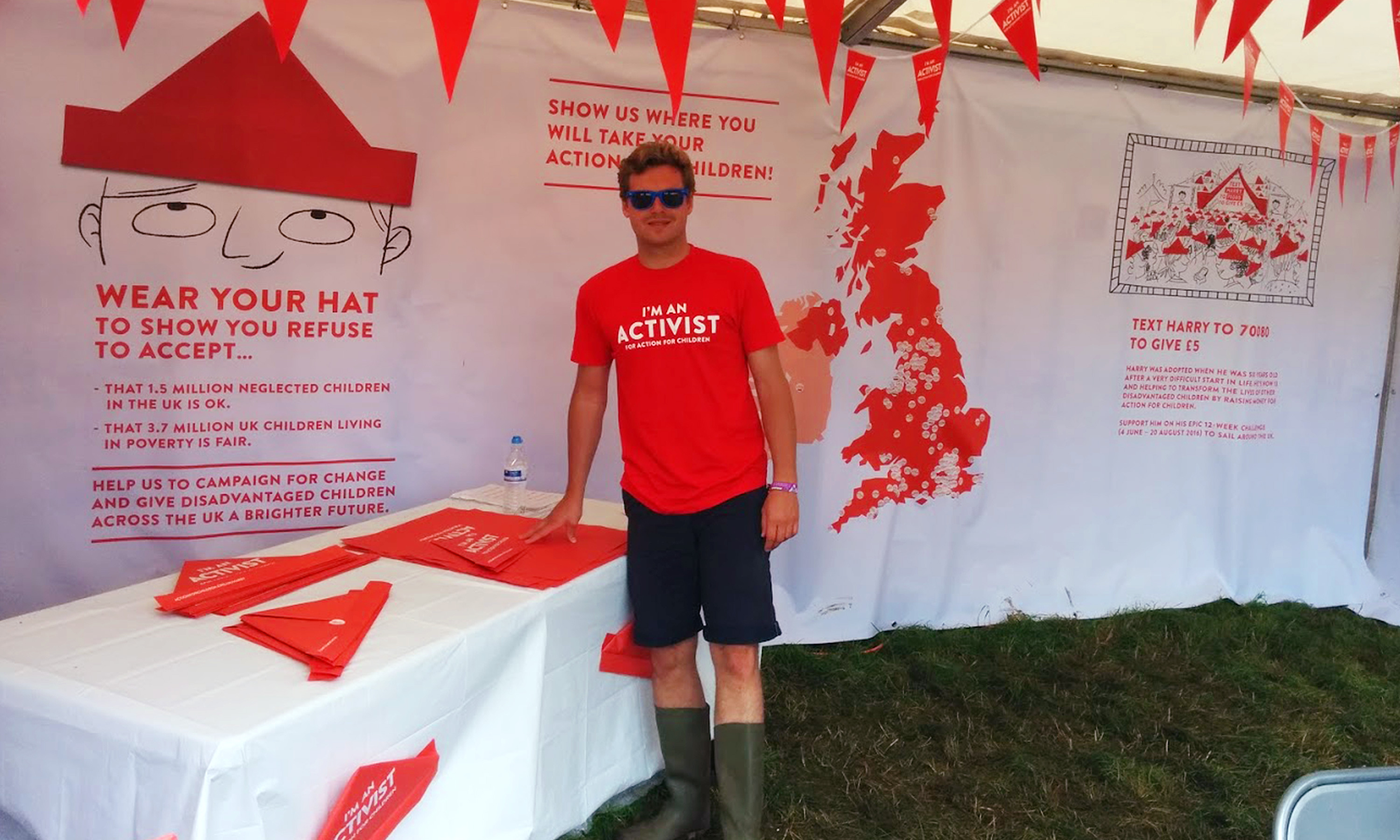 'I'm an Activist for Action for Children' Glastonbury awareness give away paper 'Activists' hats.
'I'm an Activist for Action for Children' social media.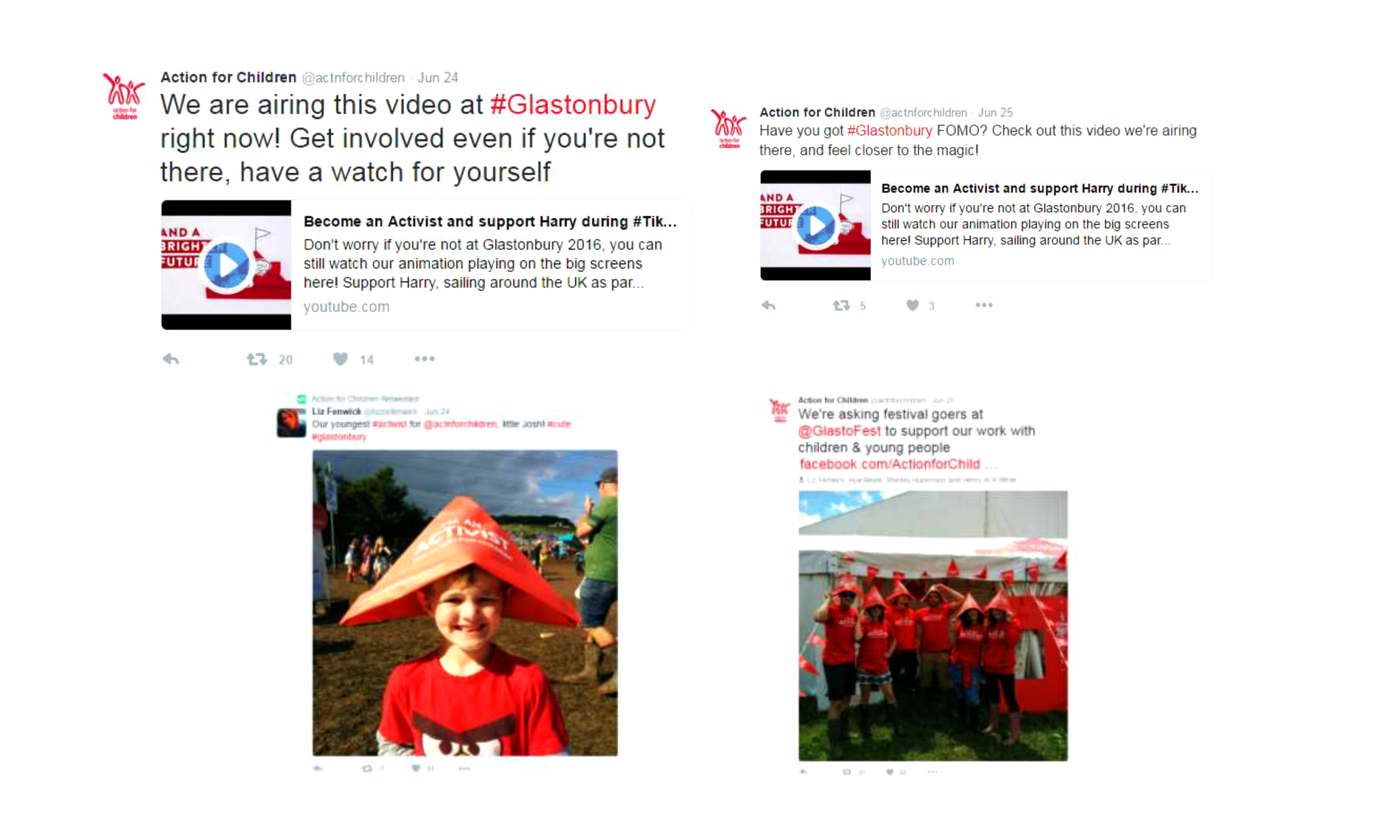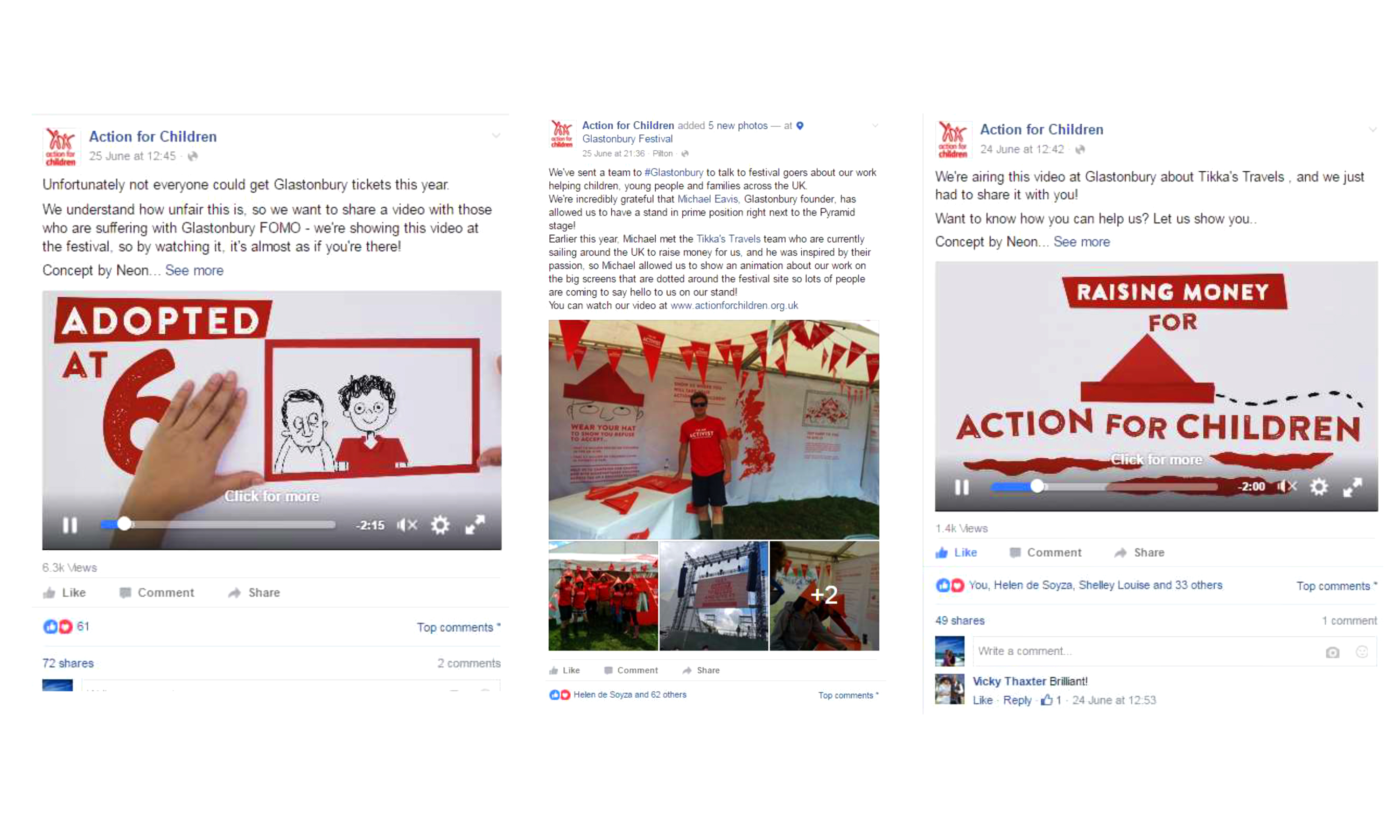 'I'm an Activist for Action for Children' fundraising movie on the big screen beside the Pyramid Stage at Glastonbury.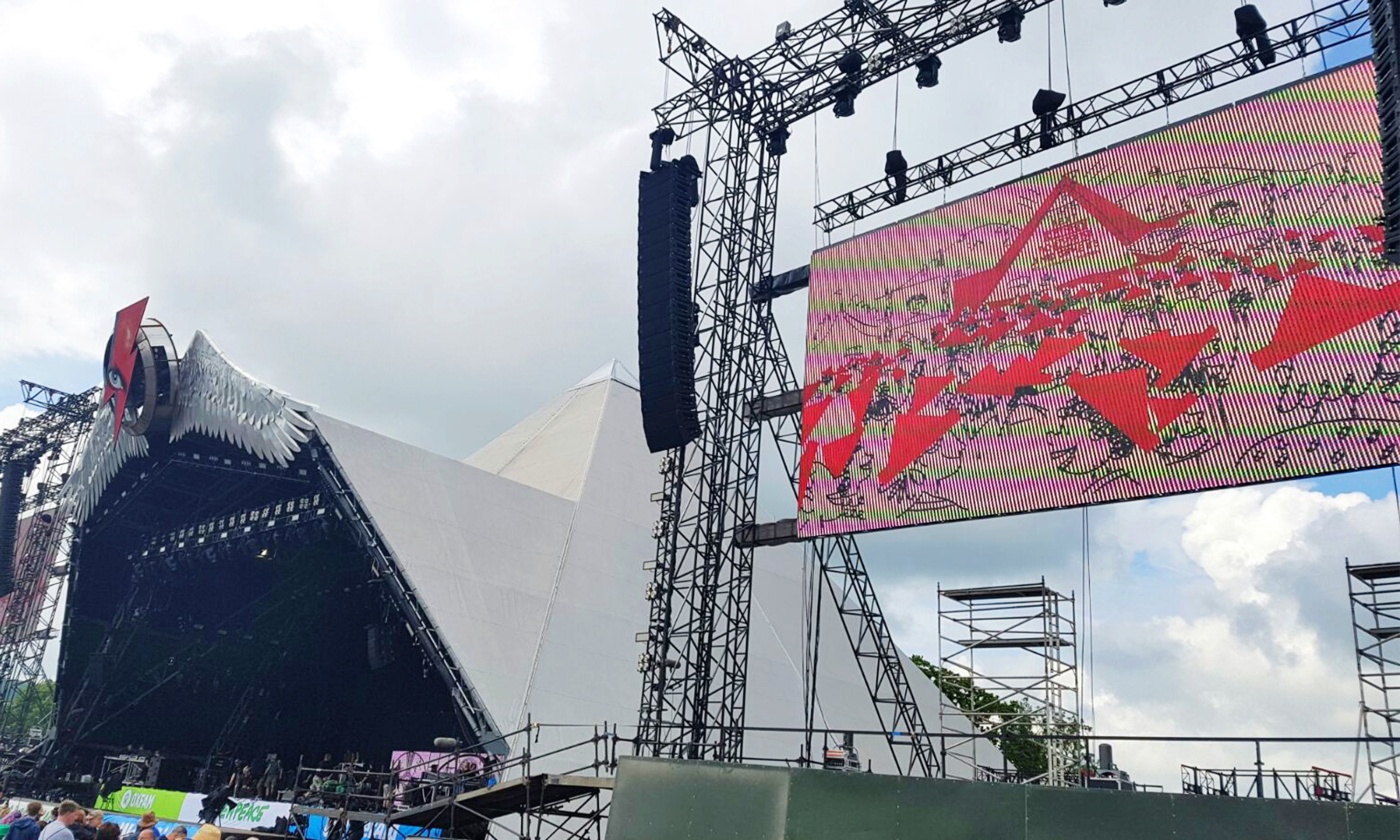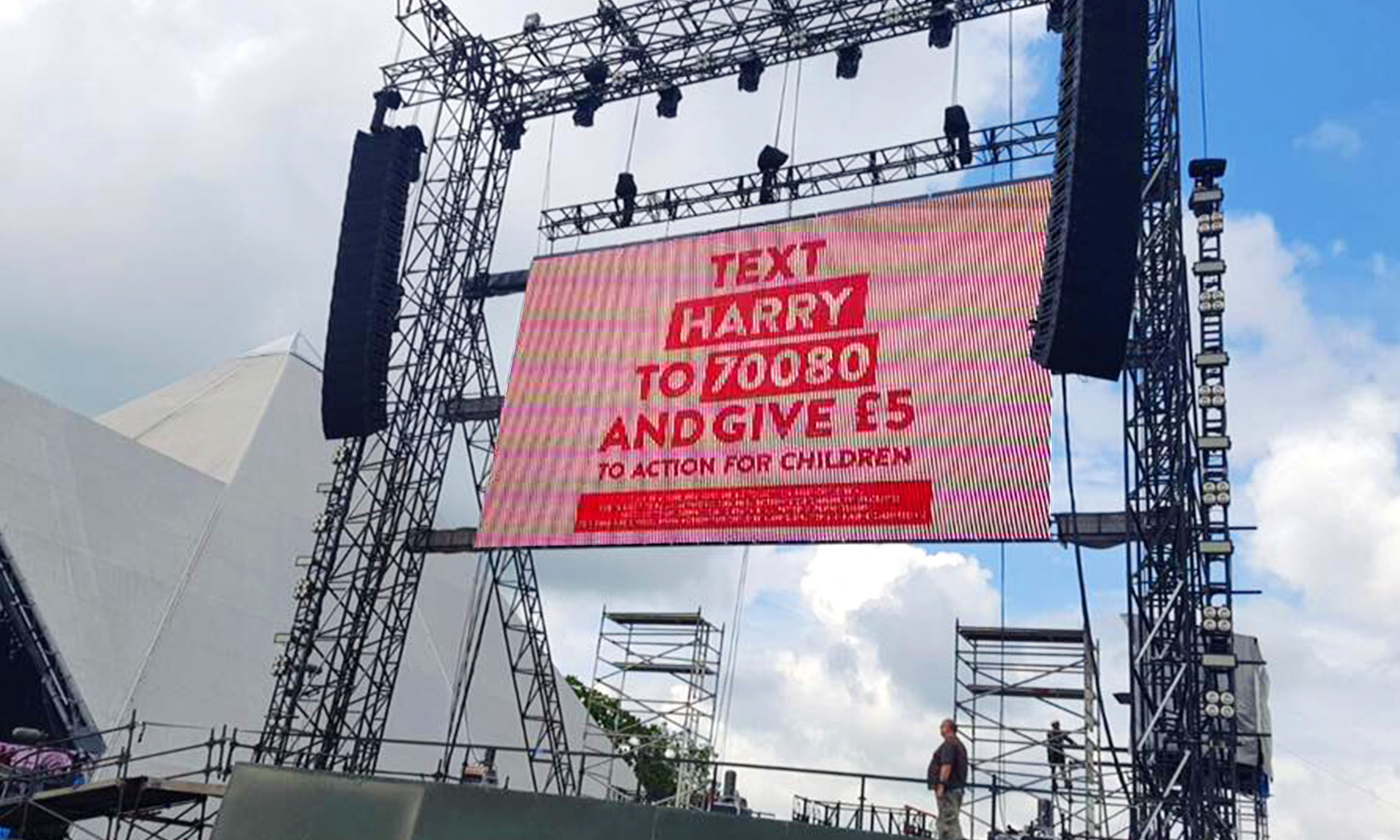 'I'm an Activist for Action for Children' promotional T-shirts.
'I'm an Activist for Action for Children' movie stills.
Harry and his family's big adventure helping to fundraise Action for Children - Part 1.
Other projects you may find of interest...