Moody's CreditView

The view that counts
So many views, one that really counts.

When we were approached (through recommendation for work for Nabarro LLP) to create the new branding and advertising for product launch campaign, Moody's CreditView was (when launched some years ago) mainly a simple means of gaining online access to the company's credit ratings. But as demand grew for greater insight, and increased depth and breadth information for better decision-making, Moody's embarked on an ambitious three year programme to revamp and reinvent CreditView.Read More…
This new portal brought together almost every aspect of Moody's services, providing investors and issuers with a vast wealth of information, deeper content and analysis, greater transparency, and a user-friendly new interface – as well as direct access to the world-class analysts who create Moody's ratings.
Not just an upgrade, but a step-change.
The new CreditView is not just an upgrade, but a step-change in terms of its content and capabilities. Quite simply, it reveals the full picture, providing a sharply focused 360o perspective on all the relevant market intelligence – not just ratings and research, but also insight into corporate capital structure, as well as credit transitions, bank analytics and much, much more.
In addition, CreditView offered a massively improved user-experience, with bespoke reporting, alerts and insight, as well as seamless access to all Moody's data through Excel – enabling clients to work far more efficiently and productively than ever before. With so much to offer, and such a bewildering range of new capabilities, the creative challenge was to pull together all the multiple benefits of CreditView in a simple yet really compelling way.
The central goals of the campaign launch were to drive client subscription renewals, new sales and maximise and sustain engagement with the next generation version of Moody's product. We therefore had to develop a best-in-class, multi-channel product marketing campaign that would reflect the evolutionary step of the product itself.
The branding and advertising would have to raise awareness, change customer perceptions, educate users technically, and bring an understanding of the value propositions of the product. It was essential to arm Moody's sales and client services teams with the most comprehensive and impactful product story, collateral, and training they have ever received.
A key challenge for the product launch campaign was how we would both distinctly and impactfully elevate the product above the noise of a very crowded market place.
Furthermore, two major competitors had launched new versions of their own credit risk product in the two years previous, adding to the challenge.
CreditView had also never been branded externally, with users referring to it as "moodys.com" – the public entry point to the product. How could we therefore strategically pivot to re-brand the service both internally and externally as a separate entity without confusing Moody's customers and sales teams?
The clue's in the name…
The answer, for once, lay in the product name – and, more specifically, the extraordinary number of ways that Moody's now enable investors to view all the crucial data and analysis relating to any company, sector, region or country. Our quietly confident strapline almost wrote itself: The view that counts.
Then all we needed to do was come up with all the countless different types of view that, in combination, form the overarching view provided by Moody's – and arrange them attractively, in themed banks of three to pick up off the various functions, features and benefits of the new CreditView. For example:
Enhanced view, Balanced view, Trusted view, 360o view, 24hr, view 20/20 view,  quick view, summary view, complete view, entity view, sector view, topic view, direct view, peer view, your view and so on.
We found it was an approach, for both the branding and advertising, with almost unlimited scope (a bit like CreditView itself), capable of stretching effortlessly across a wide range of communications, including print and digital advertising, conference graphics, launch booklets and most importantly 'waves' of explainer animations.
These animations proved crucial in highlighting CreditView new capabilities of this complex but powerful platform in a simple and engaging manner – to help Moody's clients make better, faster decisions.
And the clients view?
We're very pleased to say that the most important view of all for us – our client's – has been very favourable indeed, with Moody's regarding this as their most successful product launch ever via our branding and advertising campaign.
It wouldn't be a ratings agency project without some great stats to show now would it…
A few stats just after campaign launch:
340% ROI, based on marketing budget (budget confidential)
40% increase in regular users
16,000+ video/animation views
15,000+ microsite views
80% of customers view CreditView as greatly improved
Kind words…
"A very smart and powerful campaign, produced within a very challenging time frame."Read More…
Moody's people just love it and it has had a real impact on our clients."
BERRAK DOGRUER
Head of Engagement and Corporate Finance Product Strategy at Moody's Analytics
"The go-to-market product launch campaign for Moody's CreditView, led by our Customer Experience team, has fundamentally transformed how we engage our customers, brand our products, and support the work of our sales and client services teams. Despite the complexity of both the product itself and our objectives for it, the CreditView Branding and advertising campaign has managed to put customer needs at the core of our vision. It simplified and distilled the value of the service, and the metrics right across the board reflect the immense impact the campaign has had."
ANDREA BLACKMAN
Managing Director, CreditView, Moody's Analytics.
(Read Less...)
To find out more: info@neon-creative.com or call +44 (0)20 3289 1733 Share this: Email, LinkedIn, Twitter, Facebook, Download PDF, follow us on Instagram or view our animations and movies on Vimeo
FINANCIAL SERVICES
Branding
Advertising
AWARDS
The Drum d2b  Awards 2019:
Nominated for best product launch campaign
(winner to be revealed November 2019)
The B2B Marketing Awards 2019:
Nominated for best product launch campaign
(winner to be revealed November 2019)
PROJECT SUMMARY
Brand campaign
Brand campaign guidelines
Brand guardianship
Above the line advertising campaign
Digital advertising campaign
Advertising templates
Launch materials
Internal launch brochure
Signage
Interior graphics
Digital Templates
Power Point templates
---
Moody's CreditView multiple product messaging and strapline.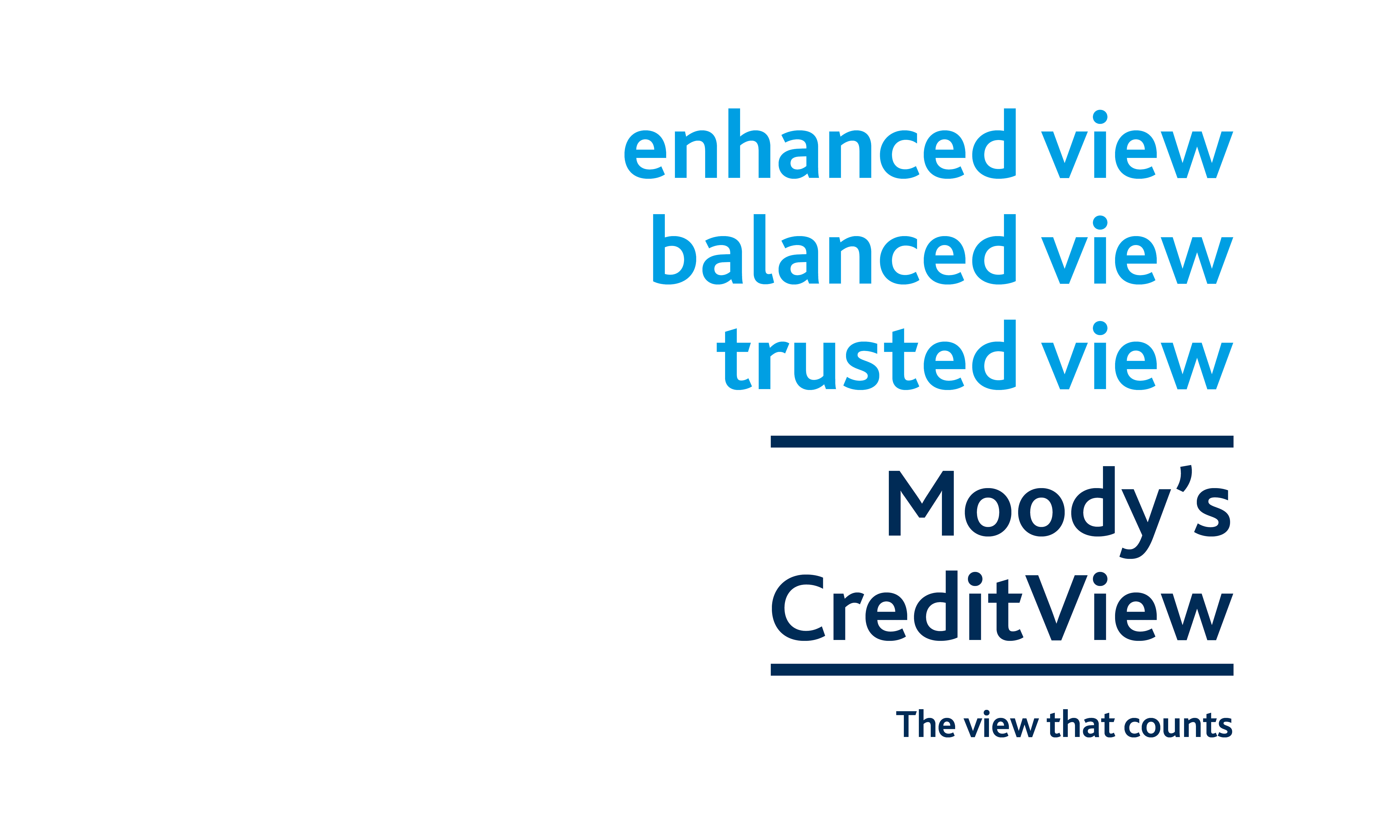 Moody's CreditView copy variants.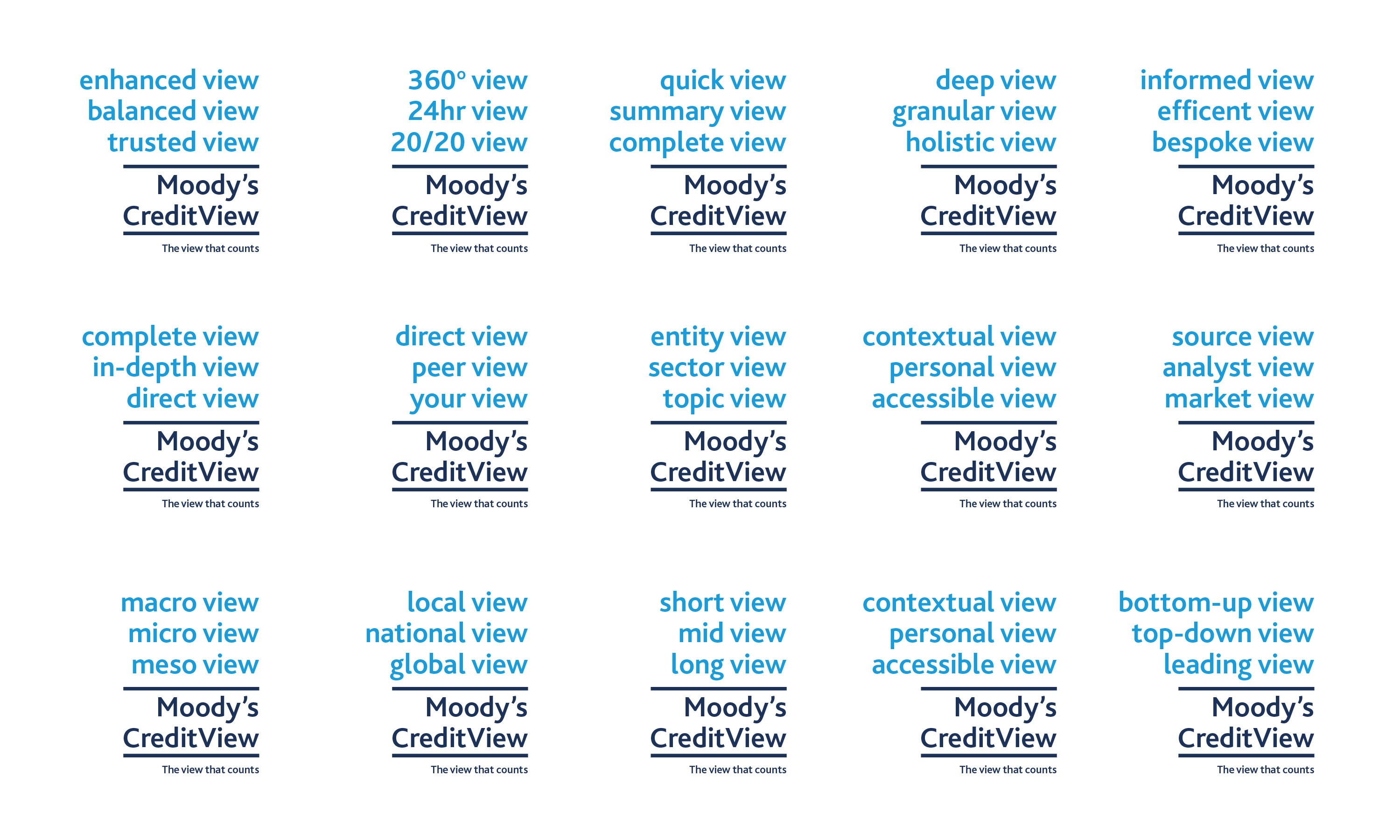 Moody's CreditView advertising.
Moody's CreditView ESG
Moody's CreditView - Launch animation.
Moody's CreditView - MUNI.
Moody's CreditView - Fundamental Credit Analysis.
Moody's CreditView - Thematic and Sector Context.
Moody's CreditView - Peer Analysis
Moody's CreditView Advertising. Moody's CreditView A5 launch brochure.
Moody's CreditView online portal.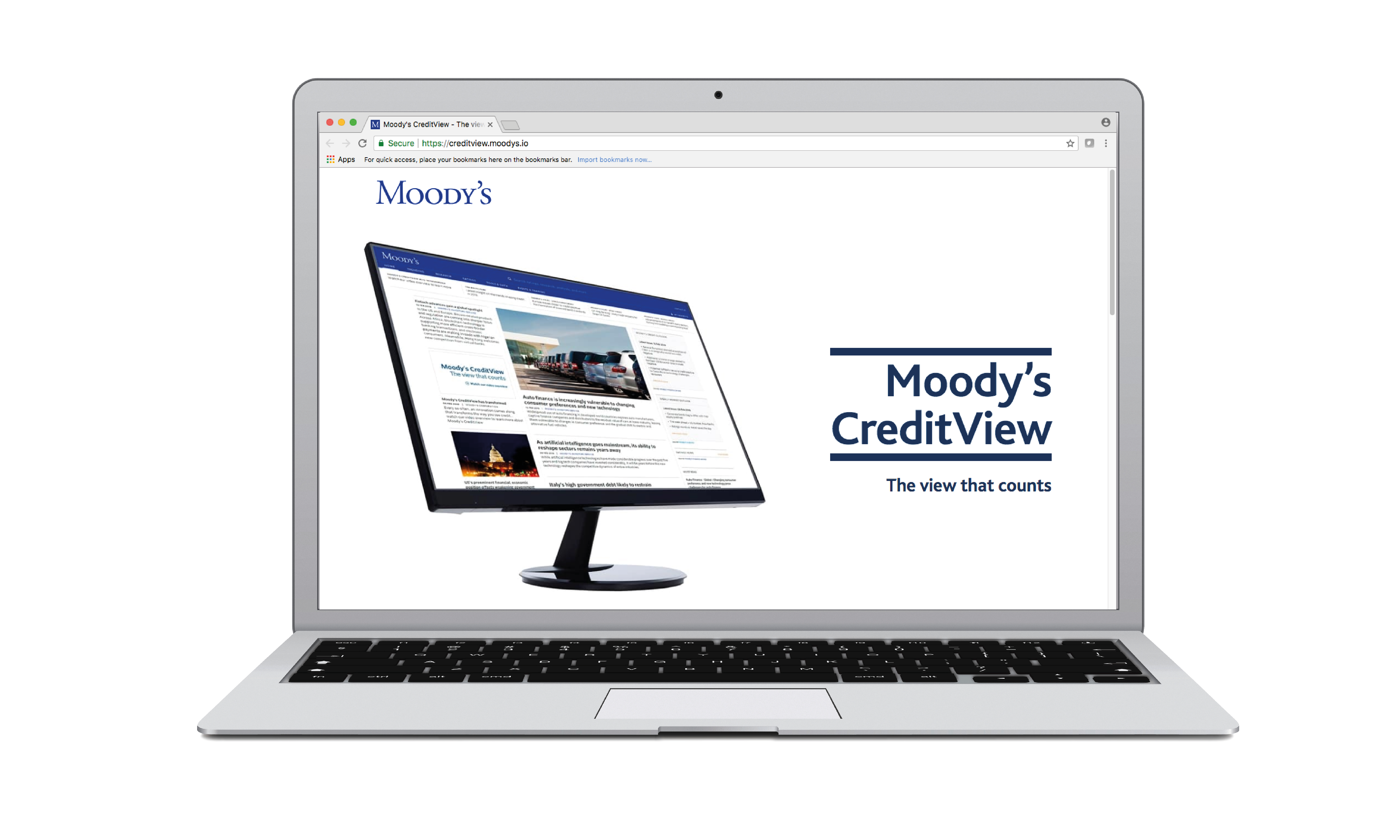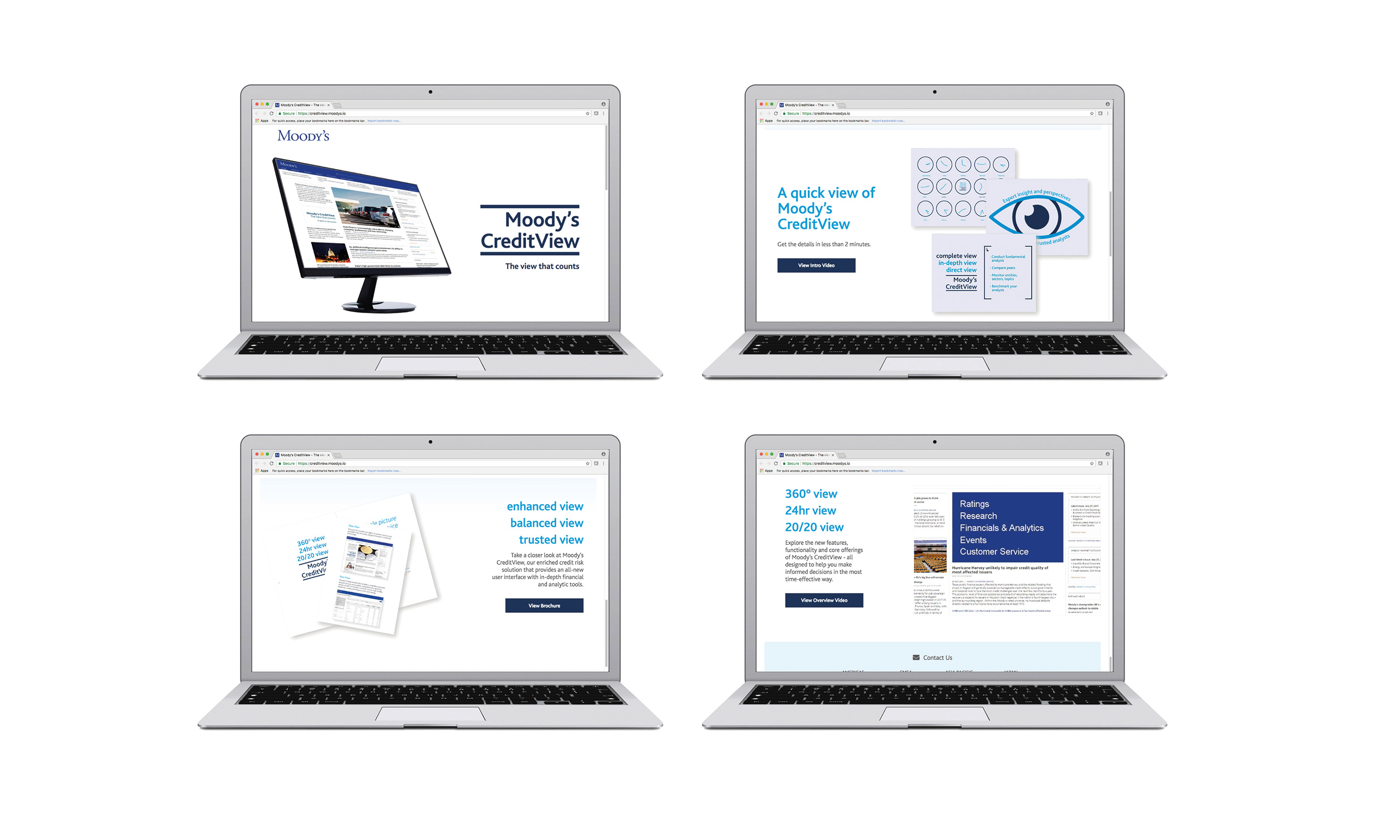 Other projects you may find of interest...