Welcome news from Graphis with a 'Merit' for Neon's 'Welcome Wall' for Nabarro.
We're delighted to discover that our work for Nabarro LLP's 125 London Wall office 'The Welcome Wall', entered into the 2015 Graphis International Journal of Visual Communication awards, has been awarded a 'Merit' and will be included into the Graphis Design Annual 2016.
When Nabarro, our long-term law firm client, recently moved to prestigious new premises, we saw a once-in-a-lifetime opportunity to create a totally branded environment. We developed a scheme for the entire building but this particularly lovely feature was the 25 foot wall in the canteen and break-out area. Our idea: to use it, in keeping with the black and white brand identity, like a giant pub blackboard – with regularly changing displays.
Our starter-for-ten was the a typographic treatment, welcoming the firm's people to their new home with a blizzard of fascinating facts about the building and its fit-out.
There are more fun treatments in the pipeline, including a London skyline, re-imagined in edible form, a world map with architectural icons locating all Nabarro's and Nabarro's global alliance partners offices, as well as a gigantic word-search puzzle, on which employees will be invited to circle words, as they discover them – so watch this space to see more.
For Graphis link click here.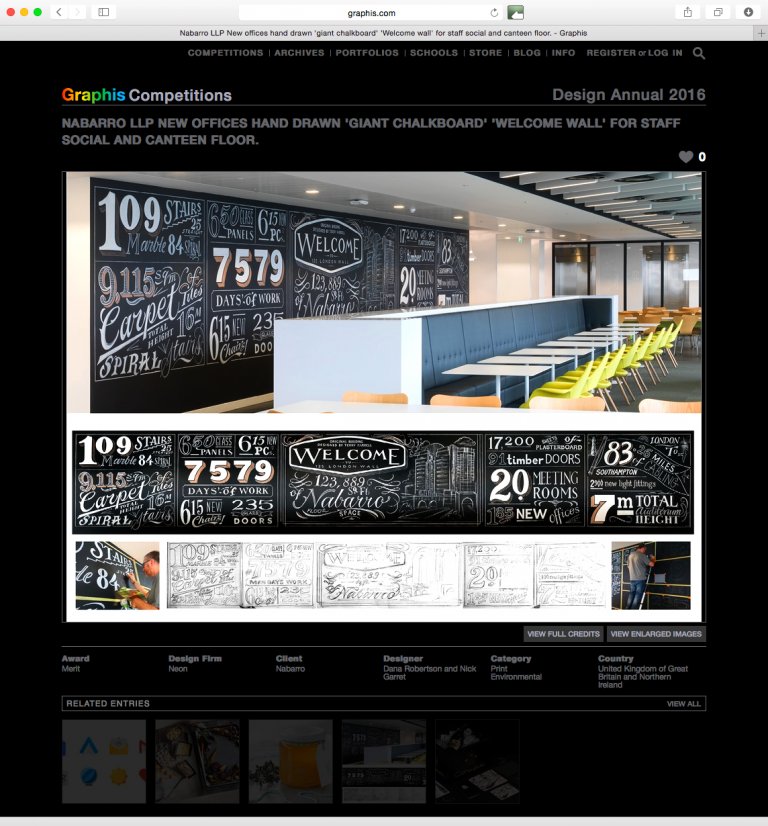 If you'd like to know more about this project, or if you have a project/pitch/roster review you'd like to discuss with us, we'd be absolutely delighted to hear from you.
Please call Dana Robertson on the number below, drop him an email or connect via LinkedIn.
Telephone
+44 (0)20 3289 1733
Email
info@neon-creative.com