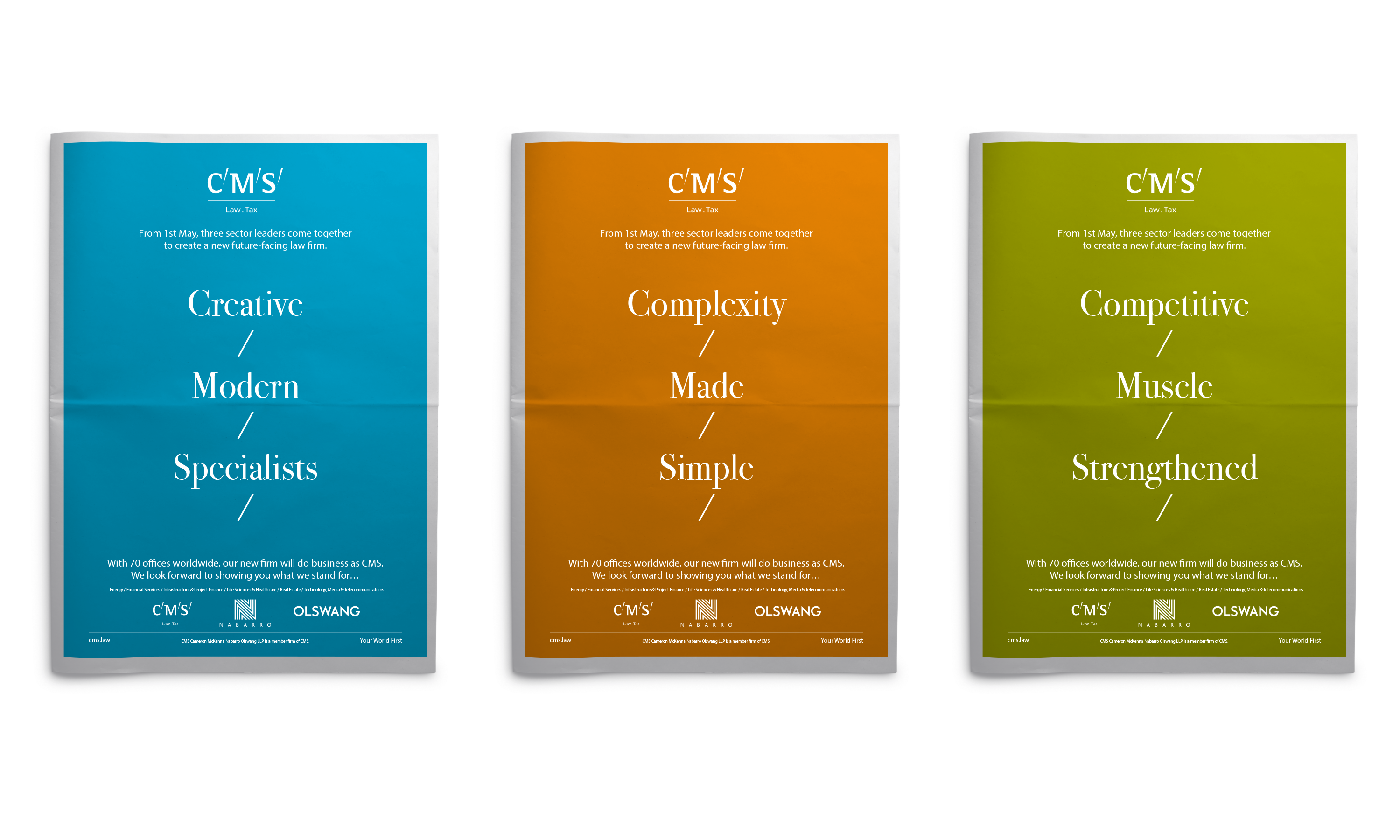 Neon create brand positioning and merger launch campaign for CMS as they become 6th largest law firm in the world.
Creative / Meets / Strategic /
When we learned last year that our long-term client Nabarro were planning the UK's biggest ever law firm merger – joining forces with CMS and Olswang – we were very keen indeed to be part of the conversation about branding for a new City-based legal powerhouse.
In our favour, our highly successful decade-long collaboration with Nabarro, resulting in their brand being one of the strongest in the legal sector. Against us, well, we thought potentially our size – despite having Nabarro's constant and full confidence in us over the years, as well as Neon's credentials in successfully delivering several other major international branding projects recently.
In the pitch for this gargantuan, highly complex and time-critical project, we were very much a David among some of the true Goliaths of the branding business.
Same result, though: after an extremely intense and competitive strategic pitching process, Neon carried off the prize; quite possibly our best single achievement since we started back in 2008 – and to make our win even more rewarding, what was to be a two stage pitch against six other agencies was closed off after the initial pitch process after unanimous agreement between CMS, Nabarro and Olswang's Senior and Managing Partners and their respective heads of brand/brand communications.
With less than three months to complete the project, to hit the 1st May launch date for the new super-firm, we must admit there were a few moments when we wondered if winning the pitch had been such a brilliant idea, after all.
But, with a lot of strong coffee and quite a few sleepless nights, we powered through, developing a distinctive strategic positioning for the new CMS, based around their offering to clients of true sector focus on global scale.
Creatively, we took as our starting-point the existing CMS logo, focusing on the initials and the graphic detail, and using them – together with the promise of a 'Future-facing law' firm – as the basis for a highly noticeable and intelligently witty launch campaign.
Creative / Modern / Specialists /
Complexity / Made / Simple /
Clients / Made / Successful /
Competitive / Muscle / Strengthened /
Collaborating / Minds / Succeed /
Clear / Measured / Solutions /
Collaborative / Modern / Savvy /
Change / Making / Solutions /
Changing / Mind / Sets /
Rolling out from 1st May, our work will be introducing the world's new sixth biggest law firm – and spelling out what it stands for, both as a brand and within specific sectors – across a veritable plethora of media, including broadsheet newspapers, prestige publications such as The Financial Times and The Economist, sector specific publications as well as taxis and airport large scale hoardings.
Frankly, it's left us exhausted. But we couldn't be happier that our long and happy relationship with Nabarro has now merged seamlessly into what we hope will be an equally productive and enduring association with CMS.
Collaborative/Mutual/Success? We very much hope so.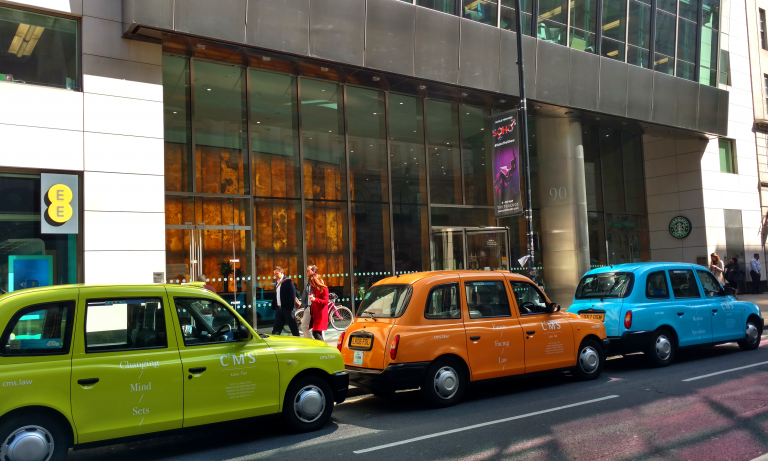 If you'd like to know more about this project, or if you have a project/pitch/roster review you'd like to discuss with us, we'd be absolutely delighted to hear from you.
Please call Dana Robertson on the number below, drop him an email or connect via LinkedIn.
Telephone
+44 (0)20 3289 1733
Email
info@neon-creative.com