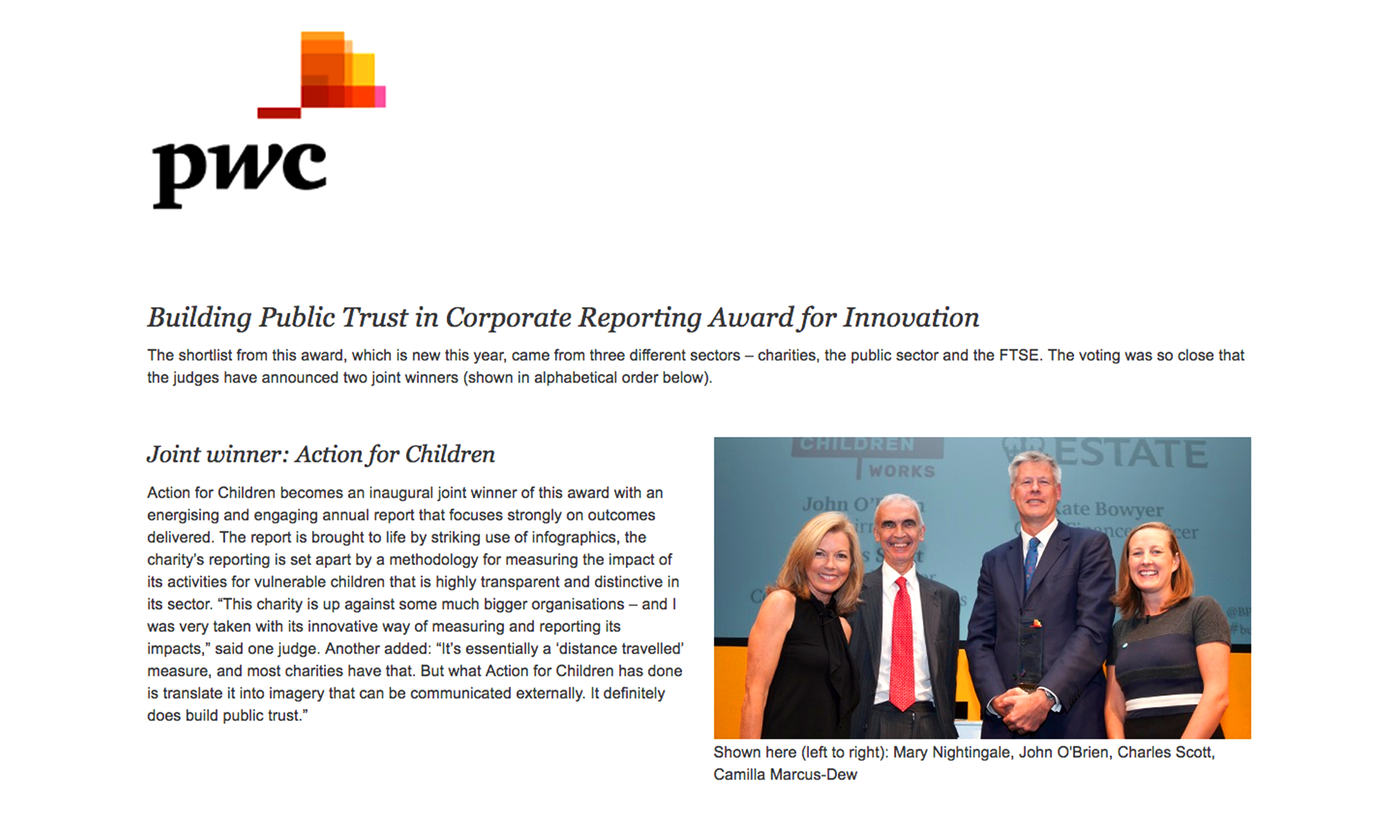 Neon help Action for Children win PWC's Excellence in Reporting award 2017
A little while a ago we helped Action for Children with an infographic project to help measure the distance travelled in helping individual children  – which to date had been notoriously hard to do. After some head scratching we came up with a surprisingly simple approach that really helped visualise the data and improvements to a childs wellbeing.
This approach to visualising data was then used as the backbone to the Action for Children's 2015/16 Annual report  – which has subsequently scooped an award at the PWC's Excellence in Reporting award 2017 for its innovative approach…  
Award: Building Public Trust in Corporate Reporting Award for Innovation
"Action for Children becomes an inaugural joint winner of this award with an energising and engaging annual report that focuses strongly on outcomes delivered. The report is brought to life by striking use of infographics, the charity's reporting is set apart by a methodology for measuring the impact of its activities for vulnerable children that is highly transparent and distinctive in its sector.
"This charity is up against some much bigger organisations – and I was very taken with its innovative way of measuring and reporting its impacts," said one judge.
Another added: "It's essentially a 'distance travelled' measure, and most charities have that. But what Action for Children has done is translate it into imagery that can be communicated externally. It definitely does build public trust."
We couldn't be more pleased for Action for Children and proves that very project no matter how dry looking initially can lead to something amazing.
We love working with Action for Children, recent projects have included the award winning campaign "I'm an Activist for Action for Children" (this campaign is also nominated in the Brand Impact awards 2017) as well as Action for Children's National Children's Hour – plus our most recent campaign "An hour for good".
If you'd like to know more about either of these projects or if you have a project/pitch/roster review you'd like to discuss with us, we'd be absolutely delighted to hear from you.
Please call Dana Robertson on the number below, drop him an email or connect via LinkedIn.
Telephone
+44 (0)20 3289 1733
Email
info@neon-creative.com