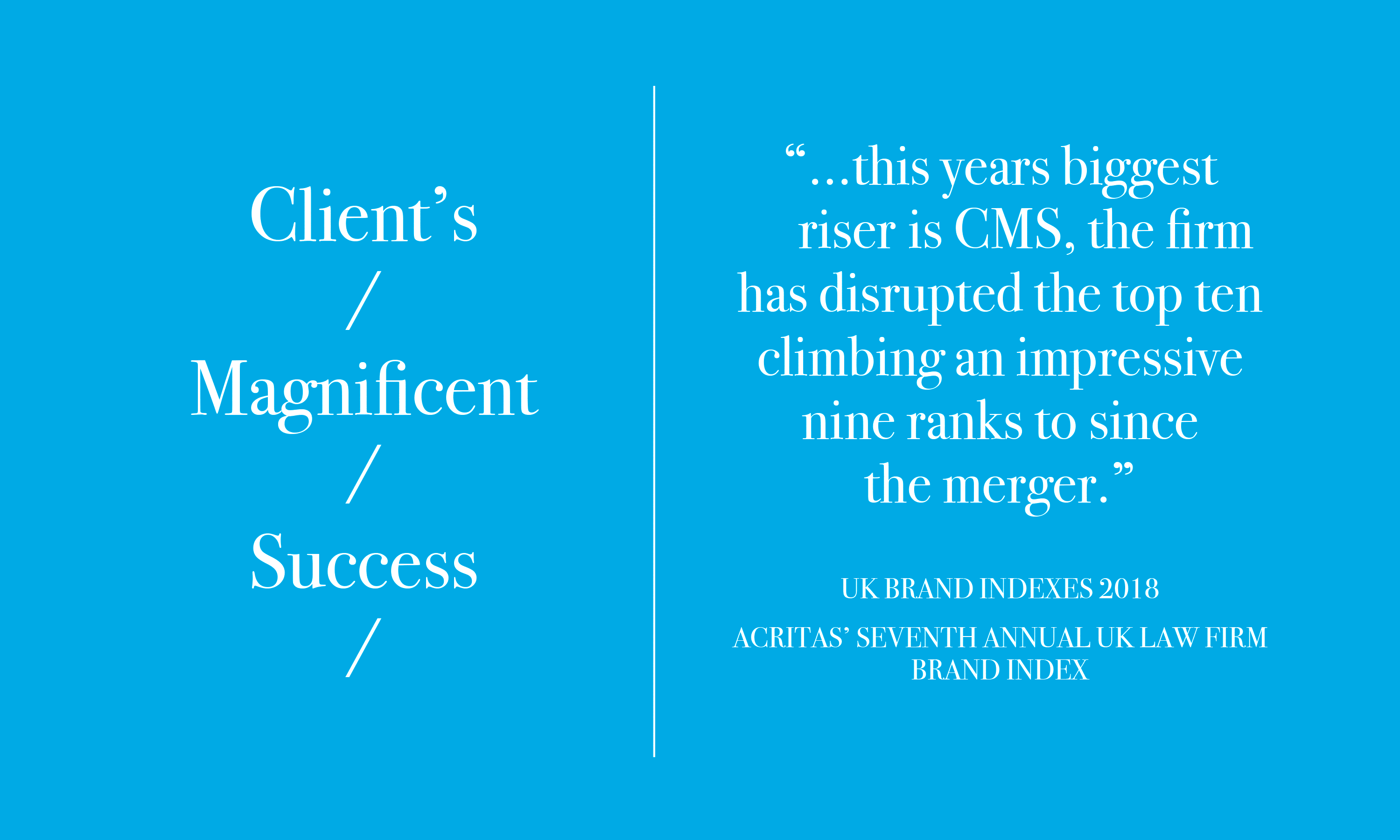 Neon helps CMS make huge strides in brand recognition in the Acritas' UK Law Firm Brand Index 2018.
Huge congratulations to CMS on their spectacular improvement in brand recognition, climbing an unprecedented 9 places to be ranked as a top 4 law firm for brand recognition in the UK by Acritas' UK Law Firm Brand Index 2018 – achieving the highest ever growth in awareness and favourability by a law firm in a single year and placing them firmly amongst the top global elite law firms. Jo Aitken, Client Relationship Director at Acritas, analyses this year's law firm brand index here in a short video.
At Neon, we're thrilled to have played a part in our Client's/Magnificent/Success, with our strategic brand guidance and creative helping to announce and launch the merger.
Acritas' UK Law Firm Brand Index is an exceptionally important benchmark for law firms and their clients – and according to Acritas' this year's Law Firm Brand Index was one of the most competitive in the Index's history.
We feel the results demonstrates real evidence of meeting the CMS brief to Neon to help them significantly improve brand recognition in announcing and launching the merger of the three law firm CMS, Nabarro and Olswang. Our strategic advice was to put all energies behind the CMS name and move quickly to a single brand with a distinctive strategic positioning for the new CMS. This was based around their offer of true sector focus on a global scale – encapsulated in the promise of a "Future-facing law firm". We also created a distinctive, memorable and versatile creative idea that helped transfer the brand equity of the three firms into the CMS name. This rolled out in major international advertising on launch day and onwards messaging in a variety of media both internally and externally post launch.
Alex Bellinger, Head of Brand & Sector Communications at CMS commented:
"Thanks to everyone at Neon for their advice, good humour, creative thinking and flawless execution. We'll look back on the advertising campaign fondly. Meanwhile our future facing law proposition goes from strength to strength."
Rob Gijsen, Director of Business Development, Marketing & Communications, CMS also commended our work and its benefit to CMS:
"These are great results for CMS. Our brand equity in London has more than doubled and we've successfully moved across the value of both the Nabarro and Olswang brands. They also show that both in terms of awareness and favourability clients are recognising the benefits of the merger one year on. Neon's brand advice and advertising campaign have played a significant part in our success."
Acritas UK Legal Brand Index 2018 is compiled from analysis of an extract of data from the Sharplegal survey dataset. All data is derived from 295 interviews with respondents, in £25m+ revenue organizations across the UK, who have senior responsibility for buying legal services. It also includes the views of a further 190 non-UK-based senior counsel who were asked which firms they used for their UK-based legal needs.
The CMS merger project followed on from Neon's highly successful and award winning decade-long collaboration with Nabarro LLP.
If you'd like to know more about this project, or if you have a project/pitch/roster review you'd like to discuss with us, we'd be absolutely delighted to hear from you.
Please call Dana Robertson on the number below, drop him an email or connect via LinkedIn.
Telephone
+44 (0)20 3289 1733
Email
info@neon-creative.com